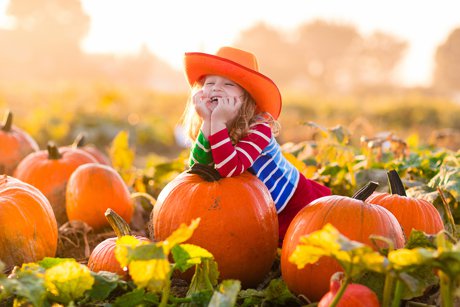 Autumn is in full swing at Underwood Family Farms on Moorpark real estate. On this full working farm, located at 3370 Sunset Valley Road, visitors can pick their own produce, shop in the country store and spend time with friendly critters. In the Animal Center, children of all ages can interact with farm animals from horses to chickens. Youngsters can climb the haystack and play in the sand pit before hitting the playground.
Pick A Pumpkin On Moorpark Property
These days pumpkins adorn the ground on this Moorpark property. Coming up orange in all shapes and sizes, the pumpkin patch is plentiful. The month of October is ripe for Fall celebrations. At Underwood Family Farms, the Harvest Festival is in full swing. Happy smiles and skipping feet can be seen all around during this seasonal celebration. Each weekend focuses on a different theme including a Western Weekend and All About Pumpkins. Live entertainment and delicious food add to a lively vibe.
There are plenty of activities to participate in. Watch the pig races and cheer for your favorite oinker, master the corn maze and chuckle along through Craig's Chicken Show. Little wranglers may want to saddle up and take a pony ride. And, the budding artist in the family may choose to paint a pumpkin. Plenty of colorful scenes set the stage for wonderful photo opportunities.
Other festivals are held throughout the year at Underwood Family Farms on Moorpark property. Spending time on the farm is also educational. Families nearby may want to consider purchasing an annual pass. Think of all the memories to be made together year round on the farm.